The continent is already advancing on sustainable issues at the government and corporate level.
Contrary to what some investors might think, Europe is home to many pioneering companies whose scientific and engineering capabilities can help meet the many challenges facing the world today.
At the end of last year, the European Union approved a € 1.8 trillion stimulus package to help European economies recover from the COVID-19 crisis. The funding comes from the long-term budget and the EU's Next Generation Initiative, which aims to create a greener, digital, and more resilient Europe.
These goals will not be achieved without resorting to innovation. We believe this program can help shed light on the large number of truly transformative companies in Europe. These companies create products and services that can help solve the problems facing the world today.
Hopefully 2021 will be the year when old perceptions about investing in Europe start to change. It is often said that Europe is just a bet on global growth and that there is no particularly new or innovative event. This is not the case!
Seven of the world's ten most innovative countries are located in Europe, according to the World Intellectual Property Organization's Global Innovation Index 2020. The first two places are Switzerland and Sweden, while the United States ranks third.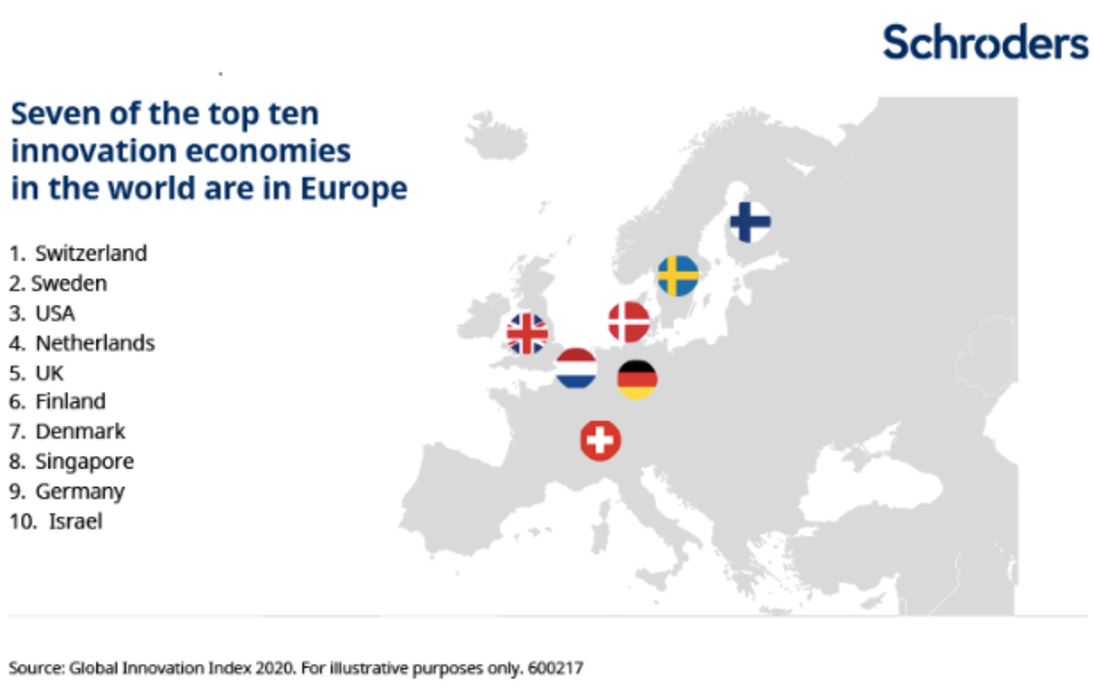 What is true innovation?
In recent years, innovation has often been associated with some of the major American technology companies. These companies have changed the way we communicate, shop, and consume news and entertainment, and they have made huge gains.
People often wonder where the European equivalents of these American tech companies are. However, we can say that the absence of this kind of tech giants in Europe does not mean that there is a shortage of innovation. Instead, we believe that innovation isn't just about consumer-focused technologies, which keep us glued to our screens and which in many ways is a new way of delivering ads.
We believe that science and engineering are the essential ingredients for innovation. We seek to invest in companies that create new or improved products and services in order to increase productivity and benefit to their customers.
In our opinion, companies that are able to develop such products should see higher growth and have pricing power, that is, have the ability to raise prices without reducing demand. They can be a pioneer in their market and be able to enter new markets. The high quality of their products or services will create significant barriers to entry for potential competitors.
There are no guarantees whatsoever when it comes to investing in stocks, but we believe that companies with these characteristics should, over time, be able to grow profitably and generate substantial liquidity.
Innovation to meet global challenges
The United Nations Sustainable Development Goals are increasingly important both within and outside the money management industry. These are the big challenges the world faces today, from climate change to food security, access to health care and much more. (Learn more about the Sustainable Development Goals here)
There are five sectors in particular in which we have identified innovative companies whose products can have a positive impact on achieving one or more of the Sustainable Development Goals. These five sectors are: materials science, medical technology and health, data collection and processing, engineering, and transportation.
Materials science
This category covers a wide range of companies operating in various fields, from nutrition to forestry to all types of chemicals. Firms in the materials science sector could have an appropriate impact on a number of the SDGs. For example, companies that make nutrition or crop protection products can target the goal of "Zero Hunger".
The abandonment of petroleum products will play an important role in the transition to a greener future, and some European companies are already offering innovative alternatives. For example, the Norwegian bio-refining company Borregaard operates a state-of-the-art refinery that uses wood as a raw material to produce products used in construction, textiles and flavorings. These wood-based products represent a greener solution than similar petroleum products.
Medical technologies and health
Health is a sector where progress is being made rapidly. This year, the focus has been on finding a vaccine against COVID-19 and innovation has played an important role in this process. Now that the vaccines are approved, it remains to be manufactured on a large scale. Europe is home to companies with this kind of advanced manufacturing capacity, such as the Swiss company Lonza Group, which makes Moderna vaccine.
Data collection and processing
Accessing and understanding data is essential in an increasingly complex world. In Europe there are leading data providers that publish scientific or technical information and offer data analysis.
In terms of processing power, Europe is home to some of the major players in the integrated circuit industry, which are fundamental to this activity. Integrated circuits are also used in areas other than data processing, which are increasingly important. Energy semiconductors regulate this flow and control electrical currents.
An electric vehicle contains five times more energy semiconductors than an internal combustion engine vehicle. Electric vehicle makers like Tesla are grabbing the headlines, but under the hood the specialist semiconductors, many of which are manufactured by European companies like Infineon Technologies, are crucial parts. Electric vehicles are an important part of the transition to a more sustainable transportation infrastructure.
Convey
Public transport is another component of sustainable transportation infrastructure. Their use has decreased due to the epidemic, but we believe that when travel becomes possible again, people will be more aware of the need to use less environmentally harmful transportation, wherever possible.
Transportation apps, planners and booking platforms have a role to play here, including facilitating the booking of long and complex flights that may have been made by air. Trainline, the UK's leading online ticketing platform, is a major player in innovation in this area: its booking app has grown in popularity in recent years, giving it unparalleled size and dominance.
Additionally, safety is an area in transportation that can always be improved. Modern braking systems contain more and more electronic components, allowing faster braking and greater vehicle stability. We draw attention to the German company Knorr-Bremse, which manufactures complex braking systems for trucks and trains, which can improve safety.
engineering
Engineering plays an important role in creating a more sustainable infrastructure. For example, electrical cables connecting renewables to the grid, or warehouse automation systems that enable more efficient logistics. Hexagon AB, which specializes in precision measurement techniques, is increasingly using its sensors and software to capture concrete scenarios and transform them into 3D virtual environments, allowing for better visualization of building sites or infrastructures.
Europe is a pioneer in sustainable issues
The aforementioned examples may not be well-known names around the world the way the tech giants do in the United States, but they do give a glimpse of what is happening in innovation in Europe. There are many other companies that have mastered equally advanced technologies and are leaders in their field. We are seeing many investment opportunities in Europe in this line of business. It is important to note that many of these companies continue to invest in research and development in order to stay ahead of their competitors.
Europe is already progressing on sustainable issues at the governmental and business levels; The proposed investments in the EU's Next Generation Plan provide new impetus. We believe that focusing on environmental and digital issues should help shine a spotlight on innovation currently invisible in Europe, as well as companies that can help build a more sustainable future.
Any reference to the companies is provided for illustration only and does not constitute a recommendation to buy or sell, or an opinion on the value of that company's shares. This article should not be considered to contain investment advice or research.
Important information: This contact is intended for marketing purposes. This document expresses the views of its authors on this page. These opinions do not necessarily represent those expressed or reflected in other communication materials, or presentations of Schroders' strategies or funds. These materials are intended for informational purposes only and do not constitute a promotional leaflet. The material is not intended to constitute an offer or a request to buy or sell any financial instrument. It is not intended to provide, and should not be construed as, accounting, legal or tax advice or investment recommendations. The opinions and information contained herein should not be relied upon to make individual investments and / or to make strategic decisions. Past performance is not a reliable indicator of future results. Investments can fall in value as well as rise and are unsecured. All investments carry risks, including the risk of losing capital. Schroders believes the information in this communication is reliable, but does not guarantee its completeness or accuracy. Certain information cited has been obtained from outside sources that we believe are reliable. We are not responsible for any errors or factual information obtained from third parties, bearing in mind that this data may change depending on market conditions. This does not in any way exclude Schroders' liability to its customers under any regulatory regime. Areas / Sectors are shown for illustration only and should not be considered as a buy or sell recommendation. The opinions expressed in this article contain forward-looking statements. We believe these statements are based on our expectations and beliefs on reasonable assumptions within the limits of our current knowledge. However, no guarantees can be made about the future realization of these expectations and opinions. Opinions and opinions are subject to change. This content is published in the United Kingdom by Schroder Investment Management Limited, 1 London Wall Place, London EC2Y 5AU. Company registered in England under No. 1893220. Licensed and regulated by the Financial Conduct Authority.
"Food trailblazer. Passionate troublemaker. Coffee fanatic. General analyst. Certified creator. Lifelong music expert. Alcohol specialist."