On Thursday, June 1, Bishop Marcel Otembi, Archbishop of Kisangani, called on the inhabitants of the Espace Grande Orientale to promote the promotion of peace and coexistence. This call was made during the opening of the book "The Forum's Actions for the Unity, Cohesion, Peace and Development of the Great Eastern Region".
This book includes, in particular, the recommendations and conclusions of the aforementioned forum, which was organized in Kisangani, last December. As the facilitator of these meetings, Monsignor Otembe invites the Congolese and especially the daughters and sons of the Grand Oriental region to promote this work.
"The moments we spent in Kisangani, from December 27 to 30, were beautiful moments of reunion that allowed us to realize the fact that together we are strong, together we can move forward, together we can change our Great Eastern region"question.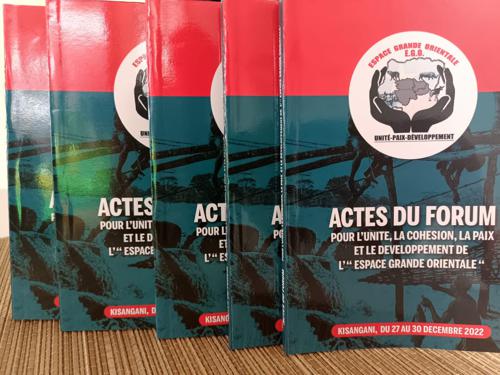 For this Catholic bishop, the pursuit of the common welfare must be at the heart of the aspirations of the daughters and sons of the Great East:
"It is important, as it were, to exploit our diversity in integration to seek prosperity and common interest to win the Greater Eastern Region. I invite you to preserve the spirit and message of the Kisangani Forum to build strong collective leadership in the various sectors of social, economic, cultural and political life… We are capable of it, and you are capable On them, so we will be able to restore peace and coexistence and promote the development of the Greater Eastern Region."
From December 27 to 30, the city of Kisangani, the capital of Chubu Province, hosted a forum on unity, cohesion, peace and development in the "Great East". The participants in these meetings talked about the appropriate options to raise them to promote the development of this part of the country, which has enormous human and natural resources, but is facing poverty and insecurity.
"Food trailblazer. Passionate troublemaker. Coffee fanatic. General analyst. Certified creator. Lifelong music expert. Alcohol specialist."