With iOS 16, Apple allows users to customize the lock screen. Here's how to view the battery of multiple devices.
Display the battery of multiple devices on the lock screen
While it is very easy to add a Battery widget on the lock screen, The way to view the independence of many devices is more confusing. To do this, you will have to touch the locked screen for a long time to bring up the code. Personalize At the bottom of the interface, it will be necessary to touch the widgets window to add an element, before choosing batteries (or associated icon) so that the appropriate tool is placed in the window designated for this purpose. Once done, touch the widget that was just displayed, then deactivate the option to meand finally touch the line Hardware In order to select the device of your choice (see images below. Please note that the devices – Apple Watch and AirPods or Beats headphones – must be connected – so you can select them from the list Hardware).
iPhone, Apple Watch, and AirPods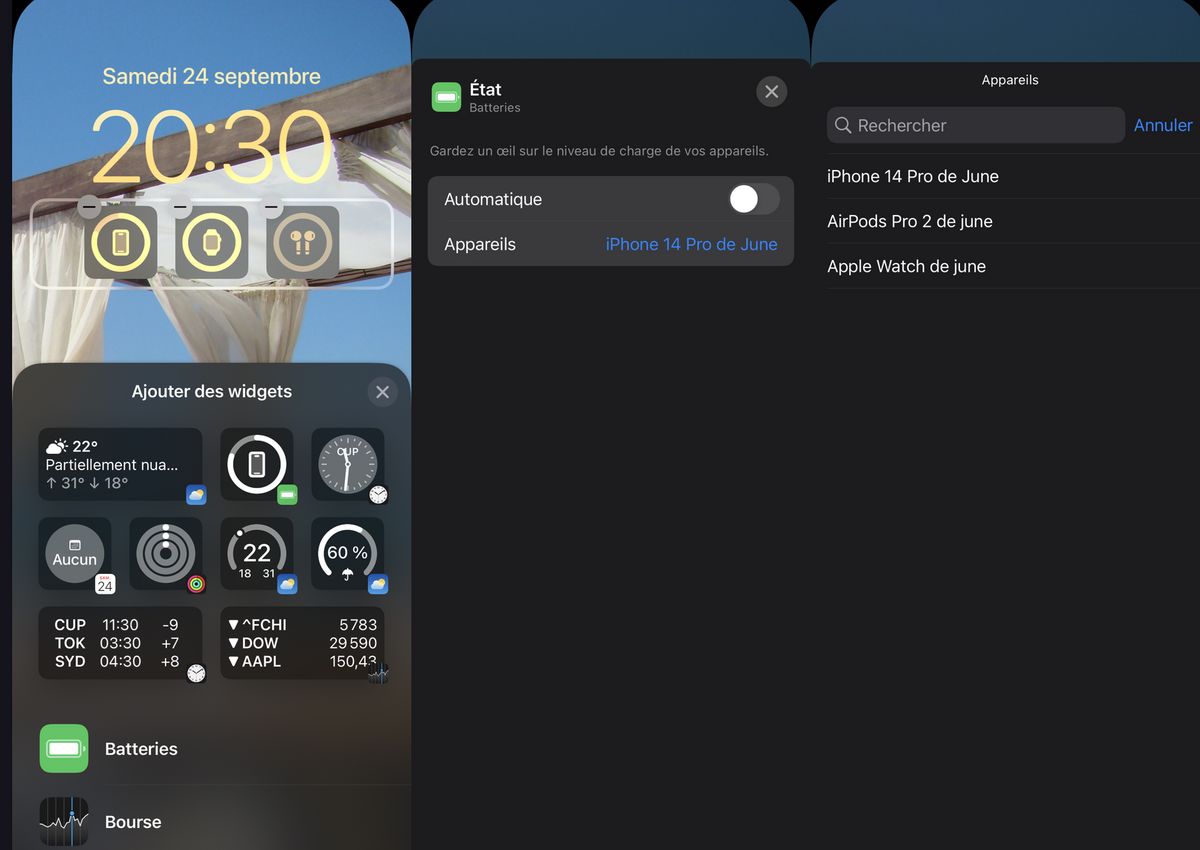 So, even if the operations could/should have been simpler and instinctive, You can view the remaining battery of your iPhone, as well as the battery of your Apple Watch and/or AirPods on the lock screen (Icons will also remain visible on the always-on display on iPhone 14 Pro and iPhone 14 Pro Max). If you leave the option to me When activated, the system will choose which icon to display depending on the situation (and this option is not necessarily the most convenient). Thus, this method makes it possible to regain control and display icons and autonomous devices of your choice (it would also be nice to be able to view the remaining battery life of the MacBook Pro / Air registered to the same account). Gageons qu'Apple peaufinera son interface de personnalisation de l'écran de verrouillage au fur et à mesure des prochaines mises à jour et version s d'iOS afin d'offrir une expérience utilisateur plus fluide, et pourquoi pas d'options Settings.
"Evil thinker. Music scholar. Hipster-friendly communicator. Bacon geek. Amateur internet enthusiast. Introvert."