>> Francophonie, its scope and coverage
>> The International Organization of la Francophonie will open a regional center for teaching French in Djibouti
>> Nine Vietnamese libraries will have spaces dedicated to French-speaking books
Chico Osman, Regional Representative for Asia and the Pacific From the OIF, During the interview with Courrier du Vietnam. Photo: Quyet Thang / CVN
Could you tell us about your action plan as head of the regional representation for Asia and the Pacific of the International Organization of la Francophonie (OIF)?
My mandate can be summarized in three important points. First, the strengthening and influence of the French language, but French is useful, for example, French is the language of communication, diplomacy, business, technology, finance, as well as employment. Why ? Because many young people expect French or Francophonie to provide them with opportunities for a professional integration in the French-speaking world. This first priority is the primary purpose of our organization's existence.
The second priority is to support member states in the field of education, because young Francophones want Francophonie to be an opportunity, a space for quality education, mobility, communication and professional integration. To do this, La Francophonie has many levers and cooperation programs supported by the Conference of Ministers of National Education (Confemen), the University Agency for Francophonie (AUF), the Institute for Training and Education (IFEF) as well as Senghor University of Alexandria.
Education is a central theme of the activities of the International Organization of la Francophonie, which has put in place measures to support the best continuity of education and access to educational and cultural resources in the French language, with a specific goal:To mobilize en masse to allow millions of children to continue learning and do their best so that no one is left by the wayside. ".
In the context of the COVID-19 pandemic, most member states and governments of La Francophonie have had to completely or partially close their schools. The pandemic will prevent at least 300 million students, including 81 million French learners, from going to school and affect 9.4 million teachers in the French-speaking world. In the digital age, we must think of an entire program in terms of supporting quality education through professional technical training, as well as mobility to study in the French-speaking world.
I am also glad to see that the thirteenth conferenceH The National Congress of the Communist Party of Vietnam (held from January 25 to 1is being February in Hanoi, Editor's noteAlso making education and teaching in the digital age an important part of her work in the coming years. In the French-speaking world, there are many young people entering the labor market and we want to provide them with the possibility to learn as well as demand decent job opportunities.
The third priority is to strengthen economic cooperation. I have seen that COVID-19 has shaken all current economic paradigms and it is important today that economic cooperation be one of the priorities for action of Francophonie. Last November, member states adopted an economic strategy 2020-2025 to achieve sustainable prosperity within a flexible, unified, inclusive and innovative francophone organization. Mitigating the social and economic impacts of the epidemic and the necessary recovery are among the main challenges of this five-year strategy. However, the extraordinary efforts that will be necessary to overcome this crisis constitute an opportunity to implement another development model that is more equitable, sustainable and inclusive.
A member state of Francophonie, Vietnam and the Asia-Pacific region is a major player in the French-speaking economic space, within the Association of Southeast Asian Nations (ASEAN), in partnership with the European Union (European Union), or even within the framework of the rapprochement between French-speaking regions in Africa. Asia – European Union.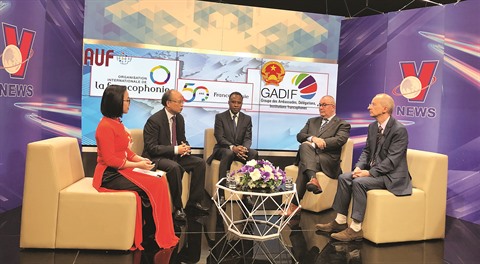 Chico Osman (center) during the roundtable on the fiftieth anniversary of Francophonie, held on November 4, 2020 in Hanoi.
Photo: Phuong Mai / CVN
Can you explain the third priority, strengthening economic cooperation?
I want to highlight the economic cooperation between Vietnam and French-speaking Africa. We have worked with Vietnam's Ministry of Industry and Trade to help increase trade and investment flows, which remain extremely low despite the opportunities. We continue to implement the negotiation procedures between business partners that started last year.
We must also work to enable new generations of French-speaking entrepreneurs to get to know each other better, and better seize opportunities for collaboration, starting with Vietnamese and African entrepreneurs. We have worked with Vietnamese actors such as Higher School of Commerce, High School of Foreign Trade, jointly with the Vietnam Chamber of Industry and Commerce (VCCI) and other partners, very quickly, to get them in contact with their counterparts in Central Africa and West Africa. We have targeted a few pilot countries with whom we will do this rapprochement: Morocco, Ivory Coast, Gabon and Cameroon, for example.
Finally, we will provide support to develop partnerships between regions of Vietnam with regions of European member states of Francophonie, in order to make better use of the free trade agreement between Vietnam and the European Union. For example, many French regions can now work with the Vietnamese provinces. This year, we will put two or three French regions in contact with some of the Vietnamese provinces to establish partnerships in order to make better use of this agreement.
What projects have been implemented this year by the regional representation of the International Organization of la Francophonie to further strengthen Francophonie, and in particular to strengthen economic cooperation, an important component of the Francophone community?
The first thing to say is that we are focusing on introducing measures to support the promotion of the French language to stakeholders in Vietnam but also in Asia. Our organization has evolved, and so has the countries of Asia. There are new requests for cooperation, especially in the areas of youth, professional integration and economic cooperation.
In the field of education, we will work to promote new forms of cooperation between different actors. With the question "What are the opportunities for Vietnamese students wishing to study in Europe, Canada, or also in Africa, and vice versa?"We are working closely with the Vietnamese Ministry of Education and Training and the Ministry of Labor, War Handicapped and Social Affairs.
We also plan to facilitate transportation for French speaking teachers from Vietnam to go and conduct immersion courses in French speaking countries.
The important international agenda for La Francophonie this year is the Association de la Francophonie. It was postponed last year, and this year it will be held in Djerba, Tunisia. We will prepare it carefully in order to bring together a large number of players from the region, especially from Vietnam. We have confirmation that Vietnam will participate. Beside this summit, there will be an important economic forum.
Another big event will take place in Vietnam. We are considering organizing an economic mission of a new type and a new paradigm because there are opportunities to link trade and investment that need to be strengthened. A delegation of stakeholders from Europe, Canada and Africa will also come to spend a week in Vietnam discussing economic issues, negotiating partnerships and possibly signing agreements.
We hope that the General Secretary of La Francophonie will lead this task herself. Let me give you a scoop. We are in touch with the Vietnamese Ministries of Industry and Trade and Foreign Affairs. In the coming days, we will meet to prepare for this mission, which will take place first in Vietnam, and then in Cambodia.
Your mission in Vietnam began in a very difficult COVID-19 context. sGive your comments on fighting this epidemic to the government and people of Vietnam?
First, allow me to extend thanks from the International Organization of la Francophonie to the Vietnamese authorities as well as pay tribute to all stakeholders who continue to fight this epidemic and its social and economic impacts that go beyond the heavy human losses resulting from the continuing health crisis. The economic and social consequences of the disaster are expected to be devastating. Thanks to a good measure of the severity of COVID-19, Vietnam has taken appropriate measures and very satisfactory results that allow us the opportunity to live with the certainty that our risk of exposure is minimal.
A somewhat important element that I must note is the residents' confidence in implementing sanitary measures, respect for social distancing and barrier rules. Everyone engaged enthusiastically, myself included. I was impressed when I observed the public mobilization in anti-pandemic efforts, in public administrations, and the role of national stakeholders such as defense and security forces, civil society and youth.
I appreciate the solidarity expressed by the Vietnamese population, among themselves, the donations, and measures have been taken to allow needy residents to have access to food, such as rice distributors. I also want to talk about the solidarity that Vietnam has provided to many other countries in the world, by sending them test kits, donations of masks and many other products. This is an important lesson that we can share in the French-speaking world, because in the face of a phenomenon of this kind, everyone must be mobilized.
Propos recueillis par Bui Phuong – Hong Anh / CVN
"Food trailblazer. Passionate troublemaker. Coffee fanatic. General analyst. Certified creator. Lifelong music expert. Alcohol specialist."